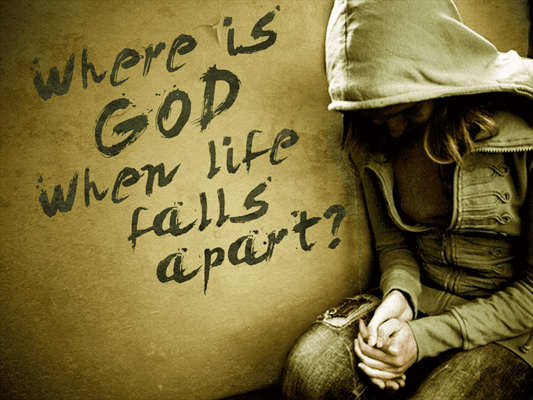 One of the most asked questions during tragedy is "Where is God?" When the bottom falls out, we wonder, "where is God?" When our expectations are not met, or we fail, or when we are the victims of the neglect and sin of others, or when things just do not go as planned, we ask, "where is God?"
So often, we are lied to and told, if we live by a certain formula of obedience and we do just the right amount of good deeds and practice just the right amount of religious observances, life will be, not only smooth, but prosperous. Jesus told us life would be tough. Jesus is not looking for followers who want a nice easy life, He is looking for people like the Apostle Paul who are willing to suffer hardship, deny self and go without basic comforts for the sake of the lost.
Sadly, many abandon God, feeling betrayed because expectations were not met. If I do good, good things happen, right? Not necessarily, after all, what is the minimum amount of good I must do in order to "release" blessing in my life. Thankfully, our relationship with Christ is not based on our performance, for if it were, we would all be in trouble. Even if there were some magic Good Meter measuring my deeds, how would I know if I were doing enough good in order to receive the amount of comfort, health and wealth I desired? What if I were able to work to the blessing and knew just the right amount of good I needed to do in order to get what I wanted? Would my motive cancel out my action since it is selfish at the core? The question is moot, I am called to deny myself, pick up my cross and follow Christ. I should have no expectation of an easy life in the flesh.
As Christians, we must remember, we are called to pick up our crosses and follow Jesus. The Bible tells us: one day we will share in the glory of Christ, we will rule and reign with Christ and we will live in an environment where there is no danger, sickness or tears. Gratification deferred must be our mindset as we set our hearts and minds on Christ.
The key to getting though adversity is acknowledging this is not our home. At home, I want to feel, well... at home! I want to be comfortable, happy and secure. If I view this life as home, I have certain expectations, demands even. I want what everyone else has, I want wide open roads clear of obstacles, I want instant gratification! If I recognize my home is in heaven with God, when I recognize just how fleeting this life is in terms of eternity, I am able to experience the joy of the Lord in any circumstance or situation. If we lose sight of the big picture, we will get lost in the weeds of life and lament our situation. As we stay focused on the prize, hardships here only serve to make There look so much better.
So where is God when life takes, what we believe to be, a wrong turn? Right there with us, just like He was when we were on top of the world. Where is God, He is on the throne and in control and working all things together for good for those who love Him. Without the guidance of God's Word, we will forget these truths, as we abide in Christ and continue in His Word we will know exactly where God is and we will yearn to be with Him in glory!