What's up with character anymore? Judging on who we elect to public office these days, character doesn't seem to matter to most of us. This is a very sad state of affairs, indeed.
Character used to mean something, character used to be a tangible trait by which we could value or trust someone. I remember growing up with role models like The Lone Ranger, who exuded strength and confidence, fueled by high standards and moral convictions. Our role models of yesteryear were men and women who defeated evil with good, never blurring the lines between right and wrong.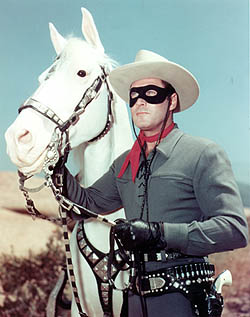 Good character engenders trust, or at least, it used to. Today, character almost seems a whimsical ideal for suckers, satisfied with finishing last. Where have our upstanding leaders gone? I can hear the All in the Family theme song as I write these words... indeed, those were the days.
I fear we have traded character for expediency. Those we send to Washington to represent us do not exactly ring the bell of moral fortitude or self sacrifice for the good of others. Unfortunately, when we send those of low character to represent us, it reveals more than we may realize about our own character.
These thoughts came to me as I was studying in Joshua chapter 2 (go read it, it won't take more than a few minutes).
Well, in case you didn't go read it just now, I'll recap: Joshua, now the military leader of Israel, sent two spies into the land of Jericho. You are probably familiar with the story, they are hidden by a prostitute, then, weeks later the Israelites march around the city, the walls fall down and there is great victory.
As I read through this passage, I began to wonder, why would this prostitute help these spies, spies who worked for people she knew would destroy her country. I began to consider her situation. I am sure Joshua, a man of great character, himself, would not have sent men of low character to spy out the land. The last time Israel was less than discriminate in sending spies, it cost them 40 years and millions of lives.
So here is what I deduced. Rahab, the aforementioned prostitute, was, well, just that, a prostitute. Generally, in her culture, in that time, prostitutes ran the local inn, sort of a one stop shop kind of thing. Anyway, as the local prostitute, Rahab was most likely not treated very well by the men of the city. Joshua's spies show up and these guys are men of character. These men do not come to Rahab for a fun night of indulgence, they come to the inn for a good night's sleep with their mind on the task before them. Rahab probably did not come in contact with men who treated her respectfully very often.
We know from the text, in Joshua 2, the people of Jericho are well aware the Israelites serve the One True God. Rahab knows the religion of her city and she knows how the men who live in her city treat her. Rahab most likely saw something different in these spies who served God. These men, who came to destroy her city, demonstrated behavior with which Rahab was not familiar. These men probably represented God well and made an impact on this woman, an impact which most likely saved their lives.
This is why character counts. If you are a professed follower of Christ, people are watching your life. People may very well be evaluating Jesus based on how you live and treat others.
In the scripture above, a prostitute's life is not only redeemed, but, we learn later, this same prostitute ends up in the genealogy of Jesus Christ! Now, how's that for redemption?
Are you living life for you or for God. If you are out for yourself, you will inadvertently hurt others, there is no such thing as live and let live in the real world. There is no victimless crime in real life. We do not sin in a vacuum. Our choices, good and bad, affect others, often those we love most.
The Psalmist wrote: Psalms 139:23-24 Search me, O God, and know my heart: try me, and know my thoughts: And see if there be any wicked way in me, and lead me in the way everlasting.
Our prayer should be the same. So, I ask you, do you have the character of an ancient spy? Do others see God in your daily life and behavior? Like the aforementioned spies, you may be the only representation of Jesus someone may encounter.
Yes, character still counts. We should demand it of ourselves and those we send to represent us. Be strong and of good courage, dare to pray Psalm 139:23-24.
Now, go live as Christ... and give the devil hell!