Many times, a character is added to a film or television series as an attempt to draw in a broader audience or boost flagging ratings. Many times these characters are so odious and obnoxious that they render the series unwatchable. Here are the top 8 characters that single handedly ruined otherwise iconic television and film franchises.
8. NERMAL - GARFIELD CARTOON
The Garfield animated series was witty and fun until the addition of Nermal, meant to be a cute
kitten that annoyed Garfield. Unfortunately,
Nermal annoyed the audience more than
Garfield, making any episode that Nermal
7. BANE - BATMAN DARK KNIGHT RISES
Bane ruined an otherwise great movie series. The Bane
character is a lesser known Batman villain and
was completely hollow as a follow up villain to
Heath Ledger's Joker. Bane was voiced horribly
and not very well scripted. Batman Begins and
Dark Knight deserved a better end, but instead Bane
renders the final film of the trilogy unwatchable.
6. JENNY PICCOLO - HAPPY DAYS
As Happy Days was winding down from it's
hey-day as an iconic look at life in the 1950's
the characters were grown up and heading into
the turmoil of the 1960's. Key characters had moved on from the show and Jenny Piccolo
went from being the unseen crazy friend of
Joanie Cunningham, to a recurring character.
Happy Days was in it's last gasp when Piccolo
was added to the series, but the character was
scripted and played so obnoxiously that the last
few episodes were rendered unwatchable.
In the last season of the Brady Bunch, ratings
were going down the drain. The producers
determined that the addition of an obnoxious
cousin from out of town would save the show
from cancellation. Instead, the Brady Bunch
pioneered a strategy that served to tank other
television shows, a tactic fatally repeated by
number 6 on the list. Instead of presenting
little Oliver as an endearing child to warm the
hearts of the audience, he was cast as an
annoying trouble maker who rendered the last
last episodes of an otherwise iconic series
4. ROBIN - BATMAN AND ROBIN
After Tim Burton left the successful Batman
reboot movie series, Batman Forever
introduced us to a slew of obnoxious
characters, but none quite as horrific as the
reinvention of Robin as a sniveling, rebellious
teen. The Robin character was bad in Batman
Forever, but really took annoying and
obnoxious to new heights with Batman And
Robin. There was pretty good competition
for this list in Batman And Robin, but the
Robin character was enough to kill this series
of films. Joel Shumacher's vision of Robin
has rendered this fourth installment of Batman
3. SCRAPPY DOO - SCOOOBY DOO
In what was apparently an attempt to draw in
younger, less controlled viewers, Scooby Doo
foisted the terminally obnoxious Scrappy Doo
on America. Scrappy Doo excelled in annoying
and alienating established viewers. The failed
decision to introduce annoying out of control
characters to already successful children's
programs is baffling and rarely successful. In
the case of Scooby Doo, the decision was fatal
as Scrappy Doo renders all episodes in which he
This is more for parents than kids, but, Elmo,
the loud, obnoxious screeching Puppet brought
chaos to Sesame Street. Sesame Street, once a
calm educational program aimed at disadvantaged children, began pandering to out
of control, attention deficient hellions by adding
a character much like themselves. Instead of
teaching self control and manners, Elmo presents
a character with zero restraint. Besides being
puppeteer-ed by a convicted child predator,
Elmo's high pitched rants have left Sesame
Street, a once iconic and relevant program
unwatchable.
1. JAR JAR BINKS - STAR WARS EPISODE 1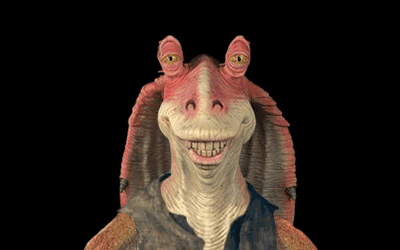 Hands down, Jar Jar Binks ruined Star Wars
Episode 1. Prior to release, George Lucas hailed
this CGI abomination as one of the highlights of
his new film. No other character is as universally
hated as Jar Jar Binks. George Lucas was
banned from the set of Star Wars Episode 7 and
one has to wonder if Jar Jar Binks is not the main
reason. One could imagine the conversation
between J.J. Abrams and Lucas; Lucas: "hey
J.J., how 'bout I come down and consult on the
new film?" Abrams: "No George, but thanks for
the offer." Lucas: "Why not?" Abrams: "Jar Jar
Binks, George, Jar Jar Binks." Lucas: "oh."
Young Anakin did not help this stinker but it is
Jar Jar Binks that makes this iconic prequel
unwatchable.
compiled and written by Paul Ahnert, Daniel Ahnert and David Ahnert.